SALLY'S STAGE MADE FAMOUS WITH THE BARTON THEATRE PIPE ORGAN, ROLLERSKATING HOSTS AND HOSTESSES, FAMOUS TUESDAY NIGHT AMATEUR NIGHT. SALLY'S STAGE WAS FEATURED LIVE THREE TIMES ON THE TV SHOW "REAL PEOPLE."
"In the 1970s I was a waitress in a restaurant, Sally's Stage, at Devon and Western. It had a tremendously large, beautifully rich-sounding pipe organ. Where could it be now?"
~ Karen McCluskey, Third Lake
Sally's Stage was a Rogers Park restaurant where your deep dish pizza came with a side of vaudeville-style entertainment, including the pipe organ our viewer remembers. It was a 1926 Barton 3 manual 10-rank pipe organ.
When they opened Sally's Stage in 1973, the Bortz brothers decided the only way to outdo themselves was with an old theater pipe organ. They eventually found one in a Fond du Lac, Wisconsin theater. It was later replaced with an even bigger organ, a Barton 3 manual 14-rank organ. That one came from the Paramount Theatre in Hamilton, Ohio. It was mounted on a platform that would dramatically rise out of the stage, and the organist would lead diners in a sing-along or play a game of "Name That Tune."
Sally's served up other entertainment, too – magicians, comedians, dancers, ventriloquists, and singers. Tuesday amateur Night was another big draw – anyone was invited to get up on stage and share their talents, however questionable. Patrons could send singing telegrams, or "Sally-O-Grams," to other diners. It even had roller-skating hosts & hostesses and a skating track around the dining area!
The concept was successful enough that the Bortz brothers opened a second Sally's Stage in Lombard. But when the economy ran into trouble in the early '80s, so did Sally's Stage. Joe Bortz said that the blue-collar families that were the restaurant's mainstays just weren't going out anymore, and the Bortzs sold the business in 1983.
Our thanks to Joe Bortz for the photos they shared with us for this story.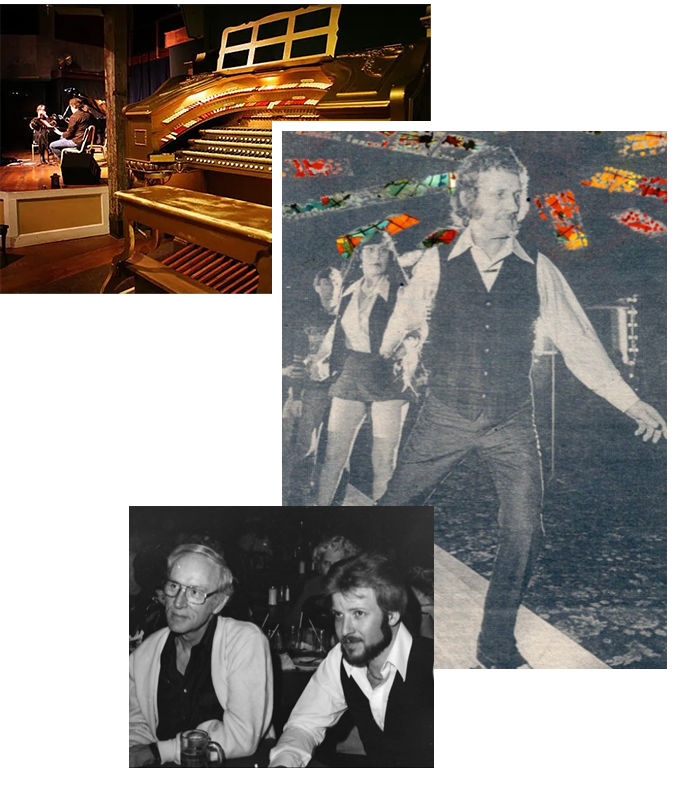 Articles Written About
Sally's Stage